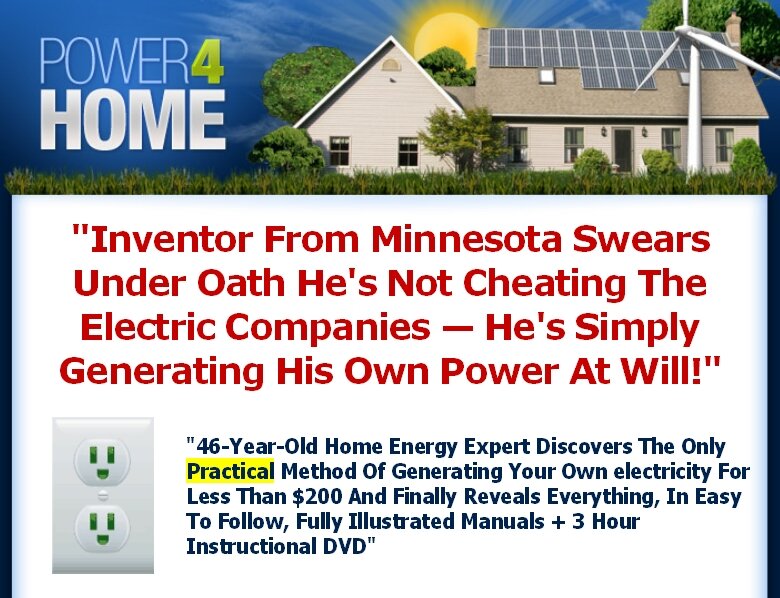 I bought a copy of John Russel Power4Home in April 2009 because I wanted to do some research on home solar power system. The Power4Home web site keeps popping up everything I do a search query on residential solar power system on the search engine. I decided to purchase a copy and see what it has to offer.
Straight off the bat, John Russel mentioned in his web site you can start generating electricity at home for less than $200. That statement is not entirely correct.
Yes, you can start generating electricity from a solar panel with less than $200. In fact, a DIY solar panel can be made with $150.
To make use of the Direct Current (DC) generated by the solar array, you'll need other solar components such as DC disconnect, meter gauges, circuit breaker, charge controller, deep cycle batteries, power inverter etc.

These components are not cheap. All in all, you will need at least $1000 to $1500 to make a reasonable size home solar power system. The system will be able to power most of your home electrical appliances and all lighting fixtures.
It may not be suitable to power energy hungry devices such as air conditioner unit or refrigerator. For this type of equipment, you will need to draw power from the grid.
So is Power4Home any good?
People who visited John Russel's web site may get very excited about the prospect of using solar energy to reduce their home energy consumption. However, the budget to set up a complete residential solar system is way off.
There is a positive side to the manual though. The step by step instructional videos to make a DIY solar panel is pretty good. It is professionally done and was recorded in High Definition (HD).
If you are good with hand tool and like to start your own home solar power project, Power4Home will provide you with the information to help you get started.
If you like to see what Power4Home has to offer, click on the link below.