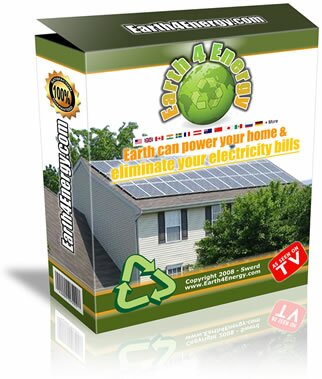 One of the first DIY home solar power manual I bought when I was doing my research on solar energy is  Earth4Energy by Michael Harvey. My first impression on the page was very good because it has been professionally designed. Other home solar power guides did not have the same level of web design.
A quick search on Google for Michael Harvey did not reveal any useful information. He may be a real person or he may not. Harvey might be a fictional name used by the publisher's marketing team. Anyhow, what we want is the message, not the messenger in Earth4Energy.
Here's a list of points from my Earth4Energy review:
The information was presented in simple English and easy to understand.
Lots of pictures and diagrams on home solar power and wind energy system (very helpful!).
Online video links in to e-books showing how to solder solar cells and how to make the wind turbine blades
Suggestion on the best types of solar cells to use.
Suggestion on where to find cheap parts for your DIY project…which is good if you are working on a tight budget.
Earth4Energy also offers full online support. Just send them an e-mail if you have any question.
Earth4Energy Member's Page Review & Walkthrough
If you are wondering what you'll get when you buy Earth4Energy manual, here's a quick walkthough. After you have completed all the online payment process, you will end up at the secured download page. This is where you'll get to order the Earth4Energy hardcopy book if you like.

Earth4Energy Member's Page
When you scroll down, you will see the section where you will  get to download the DIY solar panel videos prepared by Michael Harvey. On my last count, there are more than 9 high definition (HD) instructional videos in the member's area and they keep adding new ones  from time to time.

HD Instructional Videos
There are more than 2 gigabyte of video data to be downloaded. If you have a slow internet connection, you may want to order the videos in DVD format and have it delivered to your doorstep.

DIY Solar Panel Videos
Apart from the homemade Photovoltaic (PV) panel videos, as a bonus, you will have access to an online video library, green energy product recommendation, a biodiesel guide, solar system parts shopping cart and solar tax rebate forms for USA and Canada.

Earth4Energy Video Sample
Earth4Energy Product Guarantee
Since Earth 4 Energy is offered through Clickbank, you are covered by their 60 Days Money Back Guarantee. Meaning, if you bought Harvey's manual and do not see any value in it, just ask for your money back within 60 days from the purchase date. This is one of the best value added feature for buying e-books on the web. I don't think you will get that if you were to buy a book from Borders or Barnes and Nobles stores.
My guess is, most of the people that buy Michael Harvey's e-book would not have the skill nor the time to build their own home solar power system. Nonetheless, it is good to have the knowledge.
When you are ready to outsource the project to a professional contractor, at least you will know what are the parts and components required to get the job done. This is to safeguard you from being overcharged by the contractor. It is always good to be prudent.
If you are looking to use renewable energy source such as solar power to supplement your home electricity consumption, I hope the Earth4Energy review above has been helpful for you. Click on the link below to get Harvey's manual right now.